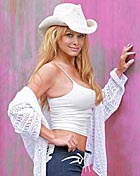 Would you believe its been TEN YEARS! since Michele Smith started hosting American Thunder? Some people in the motorcycle industry have called her an American Motorcycle Icon, The First Lady of Motorcycling, and as one 14 year old put it "She's the 'Pam An' of the motorcycle industry". Michele has changed the stereotypical image of a "Biker Chick" into "Biker Chic" by adding a bit of glamour to the industry.

She started out in the modeling world as a pin-up girl. Most of the jobs she did were sexy-type photos seen in motorcycle calendars, posters, catalogs and magazine covers like Playboy, Muscle and Fitness, Swimwear USA, Swimwear International and Neue Revue.


You may have seen her over the years in commercials, sitcoms ,music videos, The Price is Right or Tim Conway's comedy videos. Also known in Germany as "Heidi" the West Cigarette Girl, she has appeared in commercials as well as billboards and European magazines. She was spotted on the cover of Easy Riders Roadware clothing catalog and was hired as the host of American Thunder. The rest is history!

These days she is gracing magazine covers like Wild Motorcycles and Full Throttle and you may catch a glimpse of her in V-Twin, Hot Rod or Easy Riders. There are stories about her and American Thunder in Iron Works magazine as well as many others and she is always ready to do an interview without hesitation. Check out websites like Vtwinpuls.com where she was the ONLY female to ever be interviewed for On the Hot Seat. You can also find an interview with her at wominx.net
She has been riding motorcycles since 1994 when she decided to take the Caifornia Motorcycle Safety Course after they hired a stuntwomen for her riding shots in a foreign film she was working on. "This 90lb. girl on a Harley showed up and I took one look at her and thought if she can ride that thing why can't I?
There's More! -- Click Here